Kystriksveien - the coastal route of Northern Norway
Welcome to Kystriksveien (The Coastal Road) stretching from Steinkjer to Bodø - a total of 650 km. This is a scenic road and most of the stretch is a National Scenic Route. You can expect breathtaking views and you will cross the Arctic Circle along the way. There are thousands of islands along this coastline and you should take the time to visit a few of them. The express boat between Bodø and Sandnessjøen allows you to visit some of the more remote islands during summer. You may bring your bike along as well (for free). Allow yourself at least 4-5 days to explore Kystriksveien.
Experience Kystriksveien this summer!
Wish to see more of our beautiful coast? We would like to give you the opportunity to experience Kystriksveien in the best way, and have put together various tours for you. We offer a cycling holiday with luggage transport and a complete itinerary with accommodation for those traveling by car. Would you like to visit the beautiful islands on the Helgeland coast in the most comfortable and exclusive way; join the cruise with M/Y Opus One.
Experience one of the most exquisite stretches along the coastal road Kystriksveien and the Helgeland coast, with our bicycle tour including luggage transport. The trip starts and ends in the charming coastal town of Brønnøysund. In just under a week we will visit the distinctive islands Vega, Herøy and Dønna, taking in the small-town charm of Sandnessjøen and enjoying a local tradional meal at one of the oldest trading places in Northern Norway.
Organized cycling holiday on the coast of Helgeland
Are you looking for an experience of a lifetime - well organised - this is the trip for you! This is included: rental of new high-quality bicycles, accommodation, breakfast and packed lunches every day and two dinners, luggage transport in a companion car, boat transport expences and a practical and exciting itinerary day by day.
Everything is ready for an active holiday without a lot of planning and worries, we arrange everything so you can enjoy the scenic surroundings to the fullest!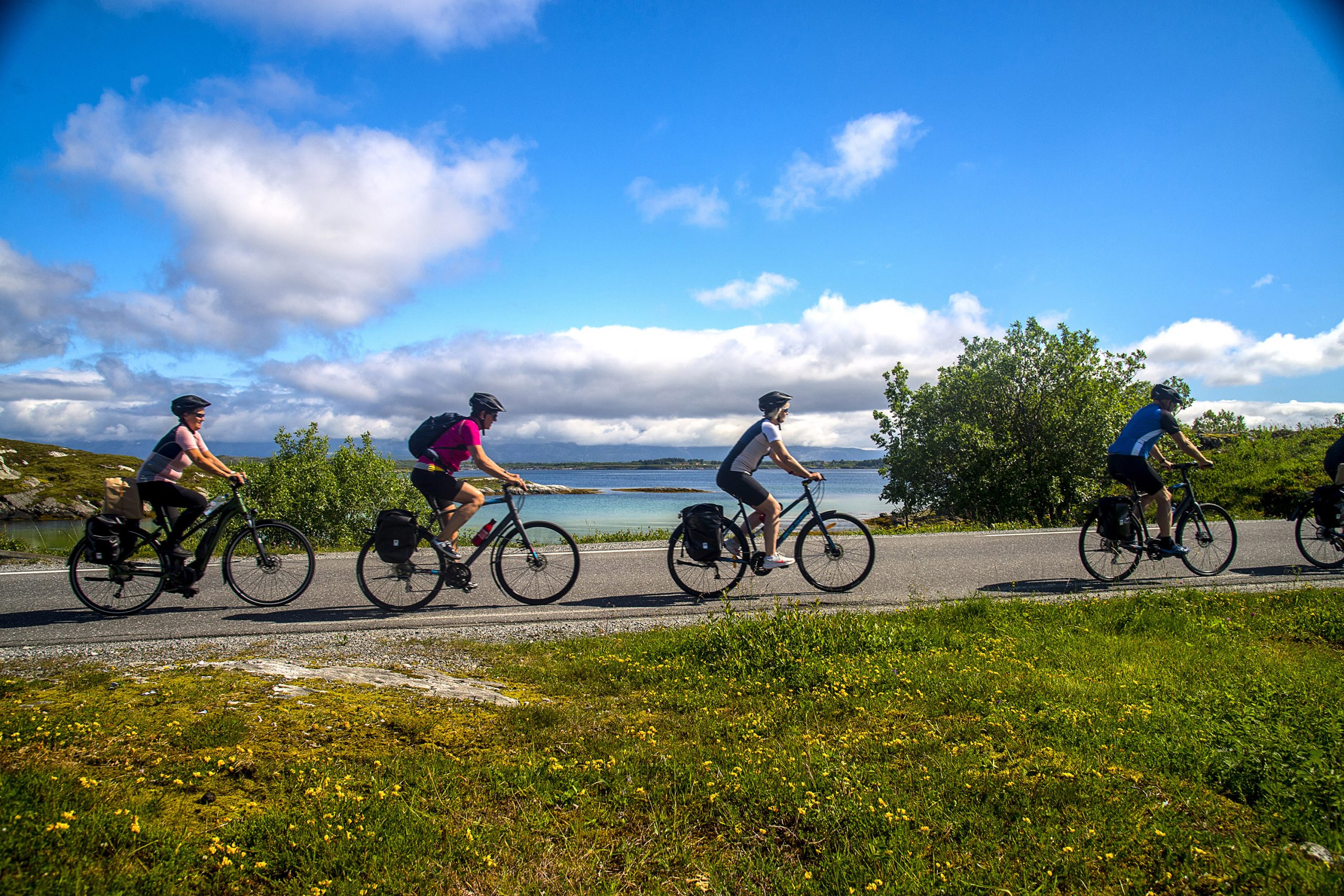 Join us on a great bike ride from Bodø to Steinkjer, along the world's finest coast. Bodø in the north and Steinkjer in the south, marks the endpoints of Kystriksveien. On this trip you will cycle almost the entire distance of the coastal road. Experience beautiful nature and exciting places. A cycling guide and luggage transport ensure a safe and comfortable trip.
Some highlights: Saltstraumen, the islands of Lovund, Træna and Vega, Torghatten and Leka.
High quality bikes, accommodation and dining experiences!
Start in Bodø on August 16.
Arrival in Steinkjer 27 August
Hiking along Kystriksveien You will find some of Norway's most spectacular mountains along the coastal route. Visit the Torghatten Mountain, with the famous hole that you can walk through. Outside Sandnessjøen you can hike in the Seven Sisters mountain range.
Kayaking along the Kystriksveien coastal route Thousands of islands, islets and skerries await those who wish to explore Kystriksveien by kayak. The Helgeland Coast is considered by many to be one of Norway's best kayaking areas; however, the Namdal Coast and Meløy can also offer visitors some magnificent kayaking experiences.
Discover Kystriksveien by bike The combination of express boat/auto-ferry allows you to hop from place to place and from island to island. Cruising along on your bike really gives you time to enjoy the nature along the Kystriksveien route. Thousands of islands awaits you. Tour suggestions Use our tour suggestions as inspiration to plan your …
Along Kystriksveien you will encounter many famous landmarks, such as Torghatten, De Syv Søstre (The Seven Sisters mountain range), Svartisen glacier and Saltstraumen (world's strongest whirlpools). On the island Vega a World Heritage Center opened in 2019. While driving along this scenic road you can expect great nature and interesting small communities. You should visit some of the islands and maybe rent a bike. Most of all, travel slowly.
Those looking for an active holiday will find many great hiking trails. The island Leka, which is a relatively small island, has over 50 marked trails. If you are not afraid of hights, mountains like De Syv Søstre, Dønnamannen and Heilhornet awaits you. A visit to the glacier Svartisen is done by foot to the glaciers edge, but is even a greater adventure if you join a guided glacier walk.
Most towns and some of the islands offer bike rental. Cycling on islands like Leka, Vega, Dønna and Herøy can be done in a few hours and the roads are fairly flat. Island hopping by bike is easy and there are no charge for bikes on the local boats and ferries.
You can buy the Travel Pass Nordland which allows free travel on boats, ferries and buses in Nordland for one week for only NOK 1290 for adults and NOK 645 for children up to 16 years old. You can buy the pass on the first ride (bus or boat). Read more here.
The "Summer Boat" between Bodø and Sandnessjøen is a great way to explore the islands. Leave your car for a day or two and go island hopping. For more information see www.reisnordland.no
Our Kystriksveien travel handbook is edited every year, and contains useful information about what to see, where to stay and where to eat.
There are 6 ferries along the Kystriksveien route (Fv17) between Steinkjer and Bodø,  and several more if you wish to visit the islands.
Creating an AutoPASS for ferry prepayment agreement will give you a 50 % disvount on ferries. After each ferry journey, your payment – including discount – is deducted from your ferry account. Find more information and create your AutoPASS ferry account here.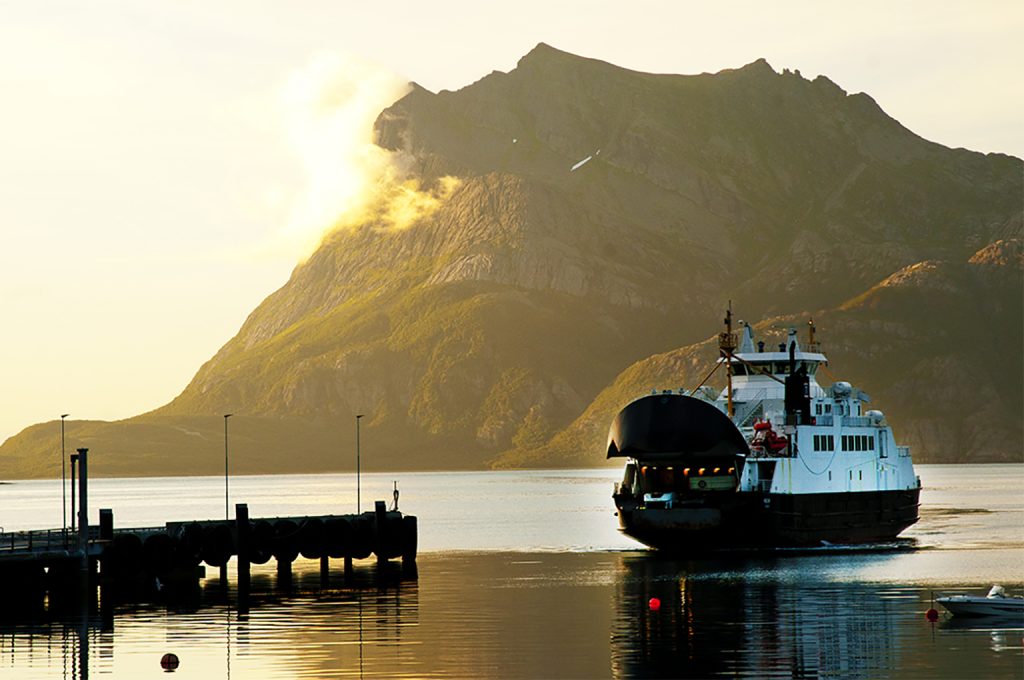 Ferries and express boats along Kystriksveien There are several ferry crossings along Kystriksveien. Just along the main road Fv17 between …