Kystriksveien - the coastal route of Northern Norway
Welcome to Kystriksveien (The Coastal Road) stretching from Steinkjer to Bodø - a total of 650 km. This is a scenic road and most of the stretch is a National Scenic Route. You can expect breathtaking views and you will cross the Arctic Circle along the way. There are thousands of islands along this coastline and you should take the time to visit a few of them. The express boat between Bodø and Sandnessjøen allows you to visit some of the more remote islands during summer. You may bring your bike along as well (for free). Allow yourself at least 4-5 days to explore Kystriksveien.
Experience Kystriksveien this summer!
Wish to see more of our beautiful coast? We would like to give you the opportunity to experience Kystriksveien in the best way, and have put together various tours for you. We offer a cycling holiday with luggage transport and a complete itinerary with accommodation for those traveling by car. Would you like to visit the beautiful islands on the Helgeland coast in the most comfortable and exclusive way; join the cruise with M/Y Opus One.
This is how you book trips with us
Choose from our ready-made tours. We have various cycle tours, a cruise on Helgeland and ready-made car packages.
Submit the form under the individual tour offers. You will receive confirmation from us within one working day. Payment is made via invoice from Book Central Norway. This will be sent to your email within a few days.
You will find our travel conditions under the individual journey.
Until departure, you will regularly receive information from us.
You are of course always welcome to contact us if you have any questions.
Experience one of the most exquisite stretches along the coastal road Kystriksveien and the Helgeland coast, with our bicycle tour including luggage transport. The trip starts and ends in the charming coastal town of Brønnøysund. In just under a week we will visit the distinctive islands Vega, Herøy and Dønna, taking in the small-town charm of Sandnessjøen and enjoying a local tradional meal at one of the oldest trading places in Northern Norway.
Organized cycling holiday on the coast of Helgeland
Are you looking for an experience of a lifetime - well organised - this is the trip for you! This is included: rental of new high-quality bicycles, accommodation, breakfast and packed lunches every day and two dinners, luggage transport in a companion car, boat transport expences and a practical and exciting itinerary day by day.
Everything is ready for an active holiday without a lot of planning and worries, we arrange everything so you can enjoy the scenic surroundings to the fullest!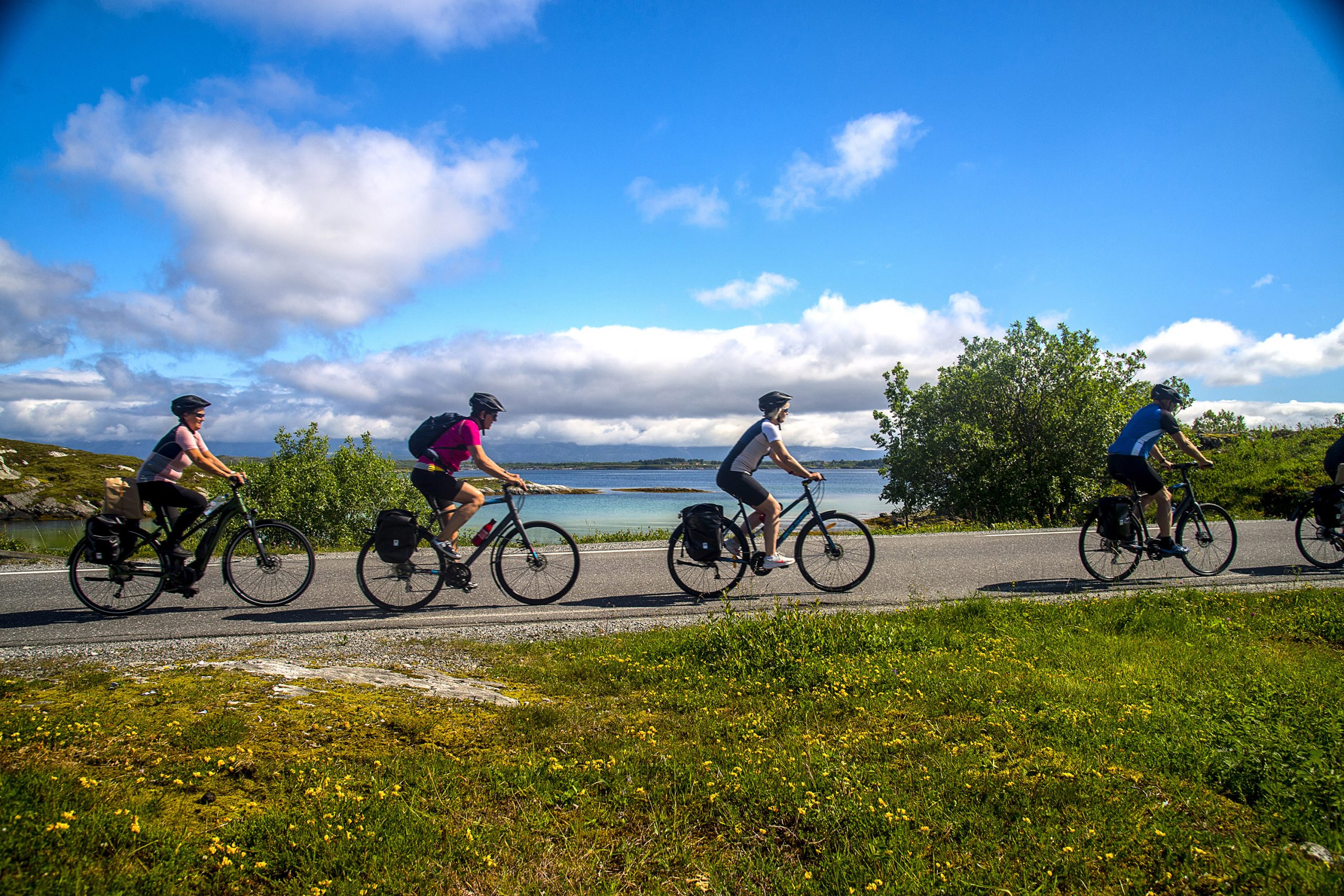 Join us on a great bike ride from Bodø to Steinkjer, along the world's finest coast. Bodø in the north and Steinkjer in the south, marks the endpoints of Kystriksveien. On this trip you will cycle almost the entire distance of the coastal road. Experience beautiful nature and exciting places. A cycling guide and luggage transport ensure a safe and comfortable trip.
Some highlights: Saltstraumen, the islands of Lovund, Træna and Vega, Torghatten and Leka.
High quality bikes, accommodation and dining experiences!
Here you will find an overview of places, accommodation, transport and experiences along Kystriksveien from Steinkjer to Bodø. Everything you need to start planning your trip along Kystriksveien!
We have an online shop with everything you need in terms of maps, brochures and books. Here you will find our travel guide and books we have published on Kystriksveien.