5 days bike trip in the Svartisen area
Start every Thursday between 8 June and 24 August
Embark on an exciting bike expedition in the Svartisen glacier area, immersing yourself in remarkable natural wonders.
Our comprehensive package offers captivating outdoor activities alongside the opportunity to explore the stunning surroundings on high-quality electric bikes. Over the course of five days, you'll have the chance to delve into the awe-inspiring landscapes of Meløy, including the fascinating mountain landscape of Glomfjellet, a glacier hike on Svartisen, or an unforgettable summit hike to Rødøyløva.
During the tour, you'll have the freedom to cycle at your own pace while your luggage is conveniently transported for you. Meløy Adventure, your local host, will curate a tailored experience, providing accommodation, bicycles, activities, and ensuring the seamless handling of your luggage.
If you're arriving by plane or train, starting your journey in Bodø will be the most convenient option.
If you have any questions, you can contact us at post@kystriksveien.no or call +47 74 40 17 17.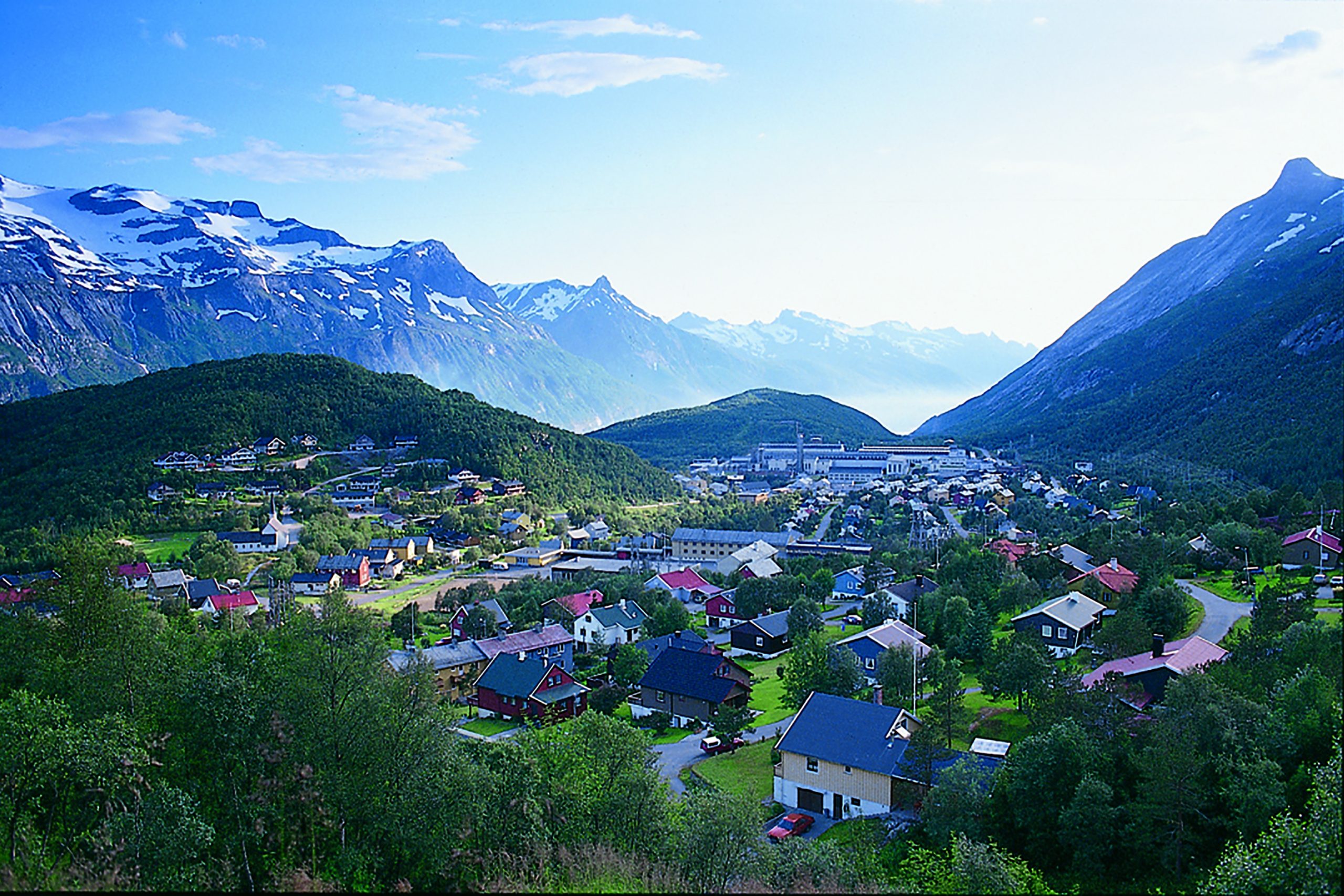 Day 1. Thursday. Bodø – Glomfjord
In the afternoon, you will embark on an express boat from Bodø at 16:15. The boat will make stops at various locations, including the picturesque island of Støtt, before reaching Ørnes at 17:45. Upon arrival in Ørnes, you will be provided with a fully equipped bike, complete with bags and all the necessary tools for your cycling adventure (including a hose and a tool kit). Your luggage will be transported from Ørnes to Glomfjord.
The first leg of the tour will take you from Ørnes to Glomfjord, spanning 20 kilometers along the scenic Kystriksveien (Fv17).
You will check in at Gulbrakka, a charming accommodation nestled in the heart of Glomfjorden. The double rooms are newly refurbished, although they do not have private bathrooms. However, you will have access to shared living spaces, a kitchen, and a sauna. Outside, you can unwind in a hammock and relax after an eventful day.
There are several enticing options for shorter bicycle excursions. You can visit the old power plant in the heart of Glomfjorden, famous for its role in Operation Musketoon during World War II. Alternatively, you can cycle to the center of Glomfjord and explore the remnants of the old industrial site, which was once envisioned to become a bustling city in the early 20th century.
In the evening, enjoy a delightful dinner, followed by a brief overview of the exciting experiences planned for the following day.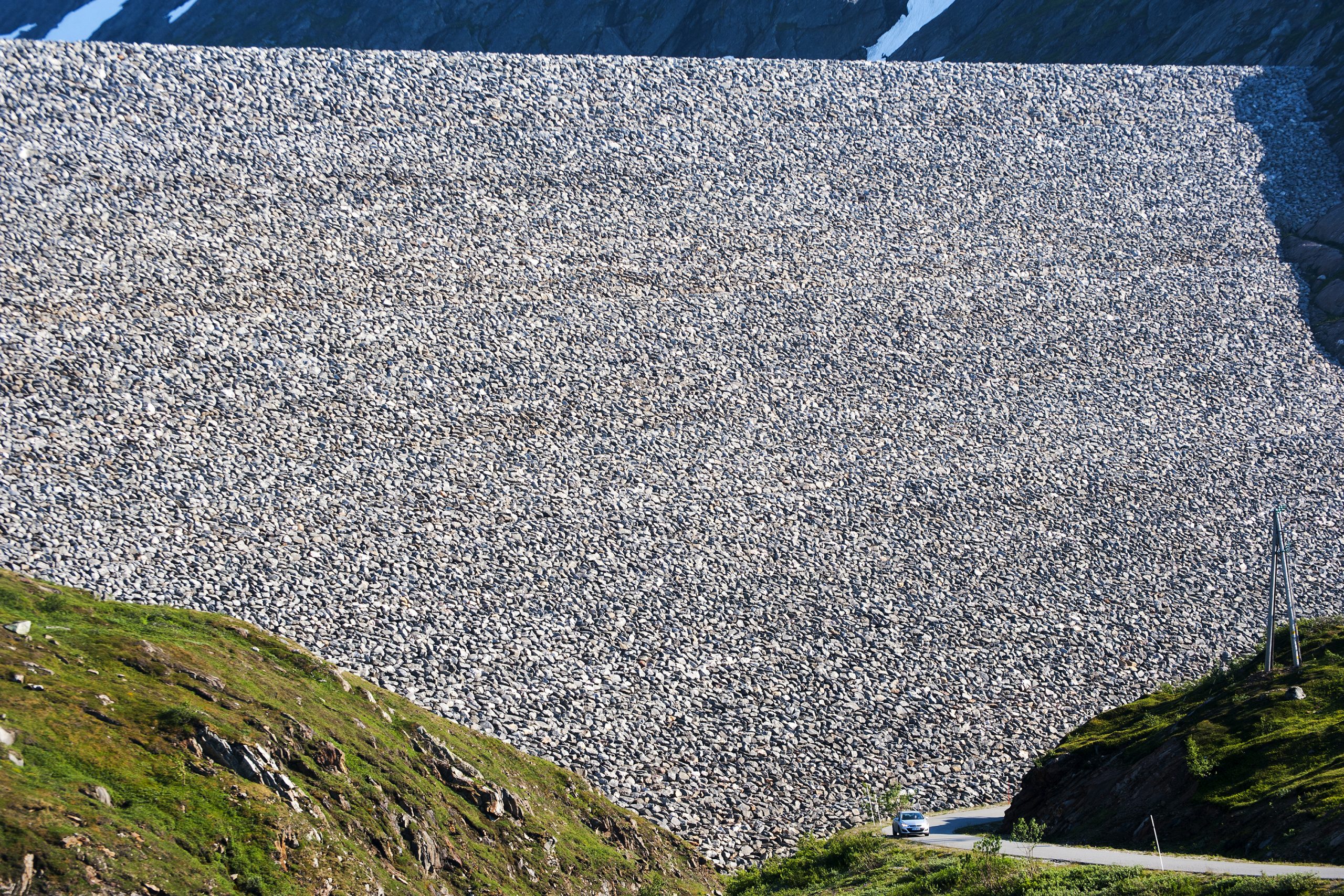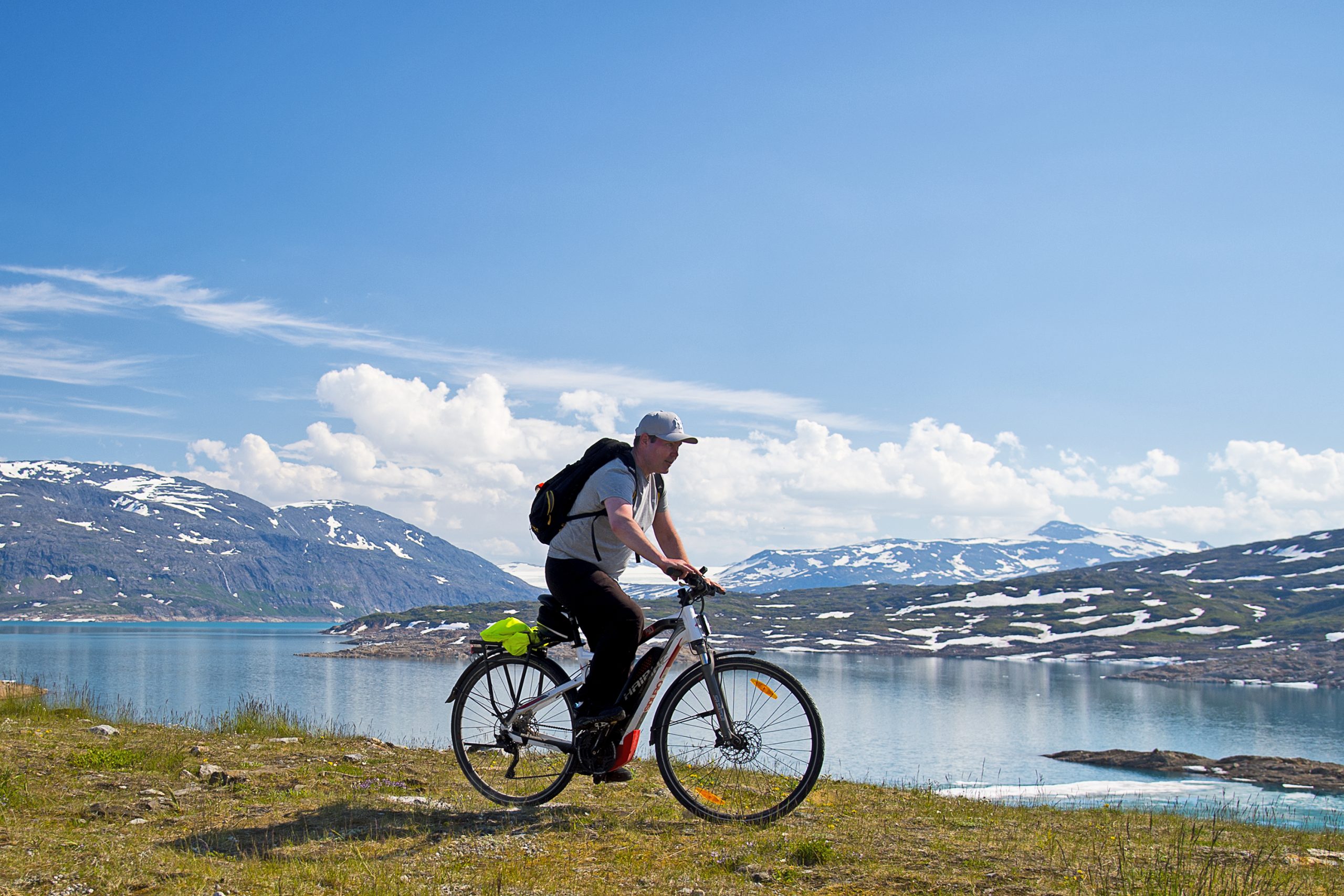 Day 2. Friday. Exploring Glomfjellet and the Option for a Kayak Adventure
On this day, we dedicate our time to the captivating wonders of Glomfjellet. The cycling route covers a distance of 24 kilometers, including some moderate climbs, providing the perfect opportunity to fully enjoy the experience of riding an electric bike.
At the summit of Glomfjellet, you'll encounter the impressive Glomvassdammen, the world's largest stone-filled dam. This monumental structure stands as a testament to the significant power development in the area. Moreover, it serves as a gateway to two national parks, offering breathtaking natural landscapes. Glomfjellet beckons you to explore its trails, with marked routes available for both shorter and longer hikes. During the bike ride to Glomfjellet, a local guide will accompany you. If you wish to extend your adventure with a mountain hike, you are welcome to do so on your own.
Later in the afternoon or evening, you have the option to partake in a kayaking excursion just below Gulbrakka. Led by a skilled guide, this two-hour trip provides a unique opportunity to immerse yourself in the serene waters. No previous experience or wet card is required to participate in this adventure. Throughout the journey, the guide will share intriguing stories about the Glomfjord industrial site, adding a captivating narrative to the experience. The excursion is not included, but can be ordered as an addition to the package.
In the evening, you gather for dinner at Gulbrakka. You will take part in the cooking process, as all the necessary ingredients are readily available, ensuring a delightful and interactive dining experience.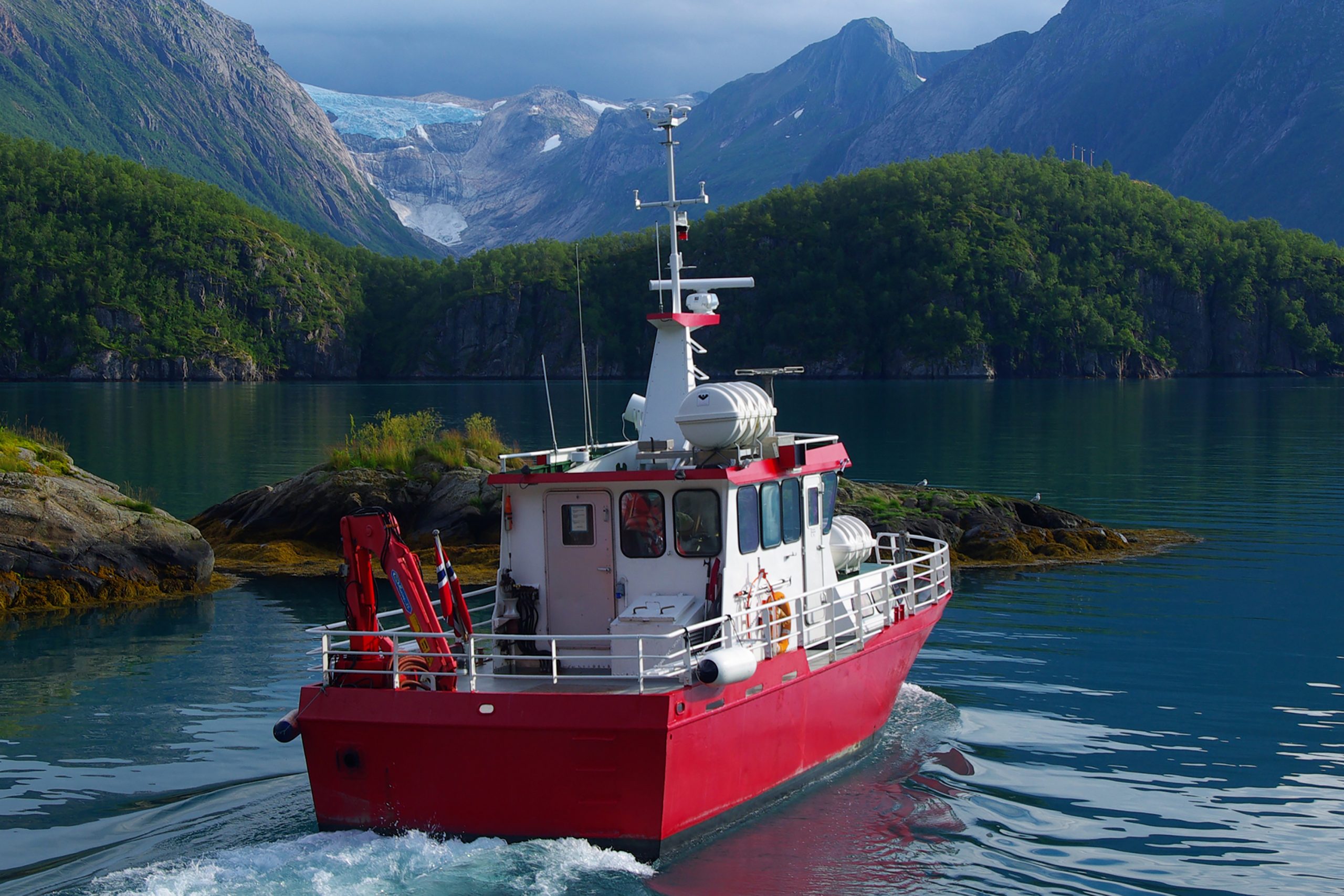 Day 3. Saturday. Experience the enchantment of Svartisen and step into a bygone era
You will be transported by minibus to Holandsvika, where you will board MS Isprins and be taken over to Svartisen. The crossing of the Holandsfjord takes only ten minutes and is a memorable experience in itself.
During this day, you have the freedom to choose your own adventure. Opt to join the glacier hike (additional fee) or explore the area at your own pace, venturing towards the majestic ice formations. As you make your way from the quay to the glacier, you'll find Cafe Brestua, a perfect starting point for various hiking trails.
The guided glacier hike on Svartisen is a moderately challenging excursion, with a leisurely pace that allows most participants to complete it successfully. For those seeking an added thrill, basic ice climbing can be included. This extraordinary journey typically lasts around 8 hours, with approximately 2-3 hours spent on the ice. Being in good physical condition is advantageous.
As the evening approaches, we return from Svartisen and savor a delightful dinner at Myrvoll Kulturgård. A visit to this cultural farm is like stepping back a century in time, offering a glimpse into the past. Additionally, an art gallery on the premises adds a touch of creativity to the experience.
Afterward, we return to Gulbrakka, where the option of a relaxing sauna awaits those interested.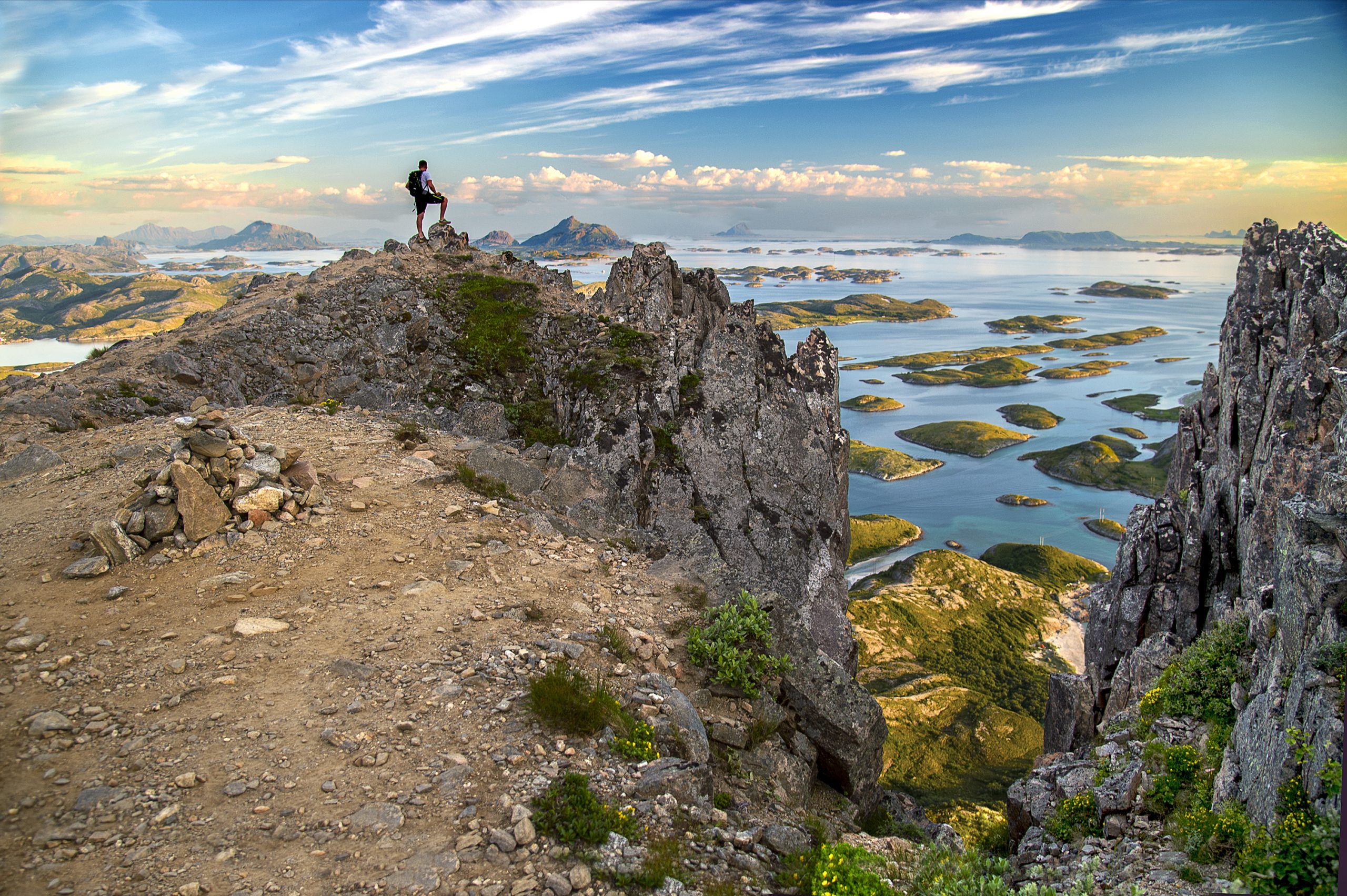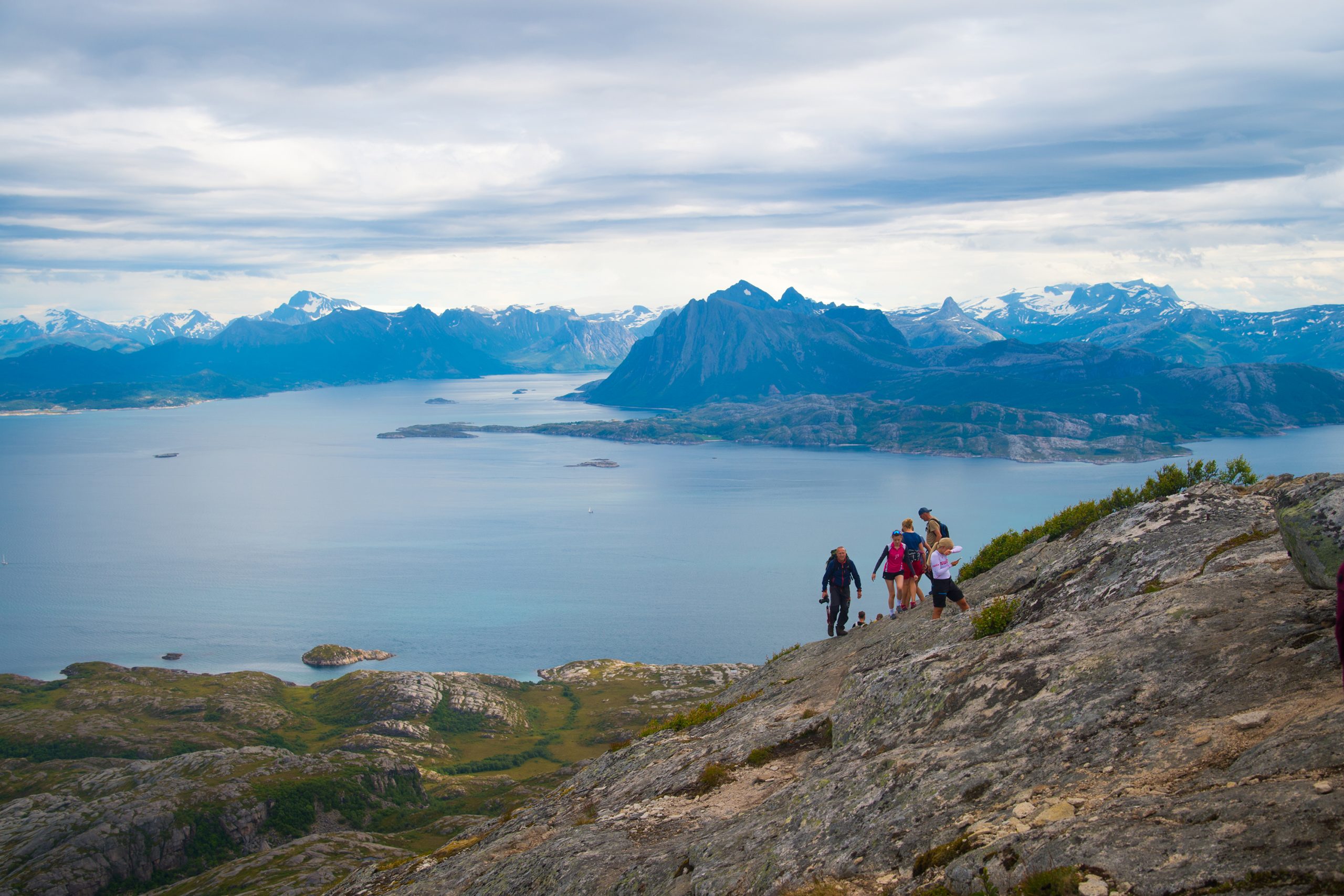 Alternative Tour: Rødøya Excursion by RIB
For those seeking an alternative adventure, we offer an exhilarating RIB trip to Rødøya. Prepare yourself for an unforgettable experience as you have the option to embark on a journey to the summit of Rødøyløva, one of the most breathtaking viewpoints along the Helgeland coast.
Our departure from Ørnes is scheduled for 10:00, where you will be provided with a warm flotation suit and a life jacket for the RIB excursion. We recommend bringing a small bag with refreshments, snacks, a lightweight fleece, and a windproof jacket.
The RIB boat trip itself is expected to take approximately 50 minutes each way, offering thrilling moments and stunning coastal views.
Upon reaching Rødøya, our experienced boat driver will provide you with detailed information on what to bring during the five hours you have at your disposal.
An impressive Sherpa staircase, recently constructed, will guide you to the summit at 443 meters. From this vantage point, you'll be treated to awe-inspiring panoramas of the entire Helgeland coast, the vast expanse of the Svartisen glacier plateau, and, weather permitting, even glimpses of the majestic Lofoten Islands.
Before returning, consider treating yourself to a delicious lunch at Klokkergården, enhancing your overall experience and satiating your appetite.
Please note that this alternative tour requires separate booking and may offer a different perspective on the stunning beauty of the region.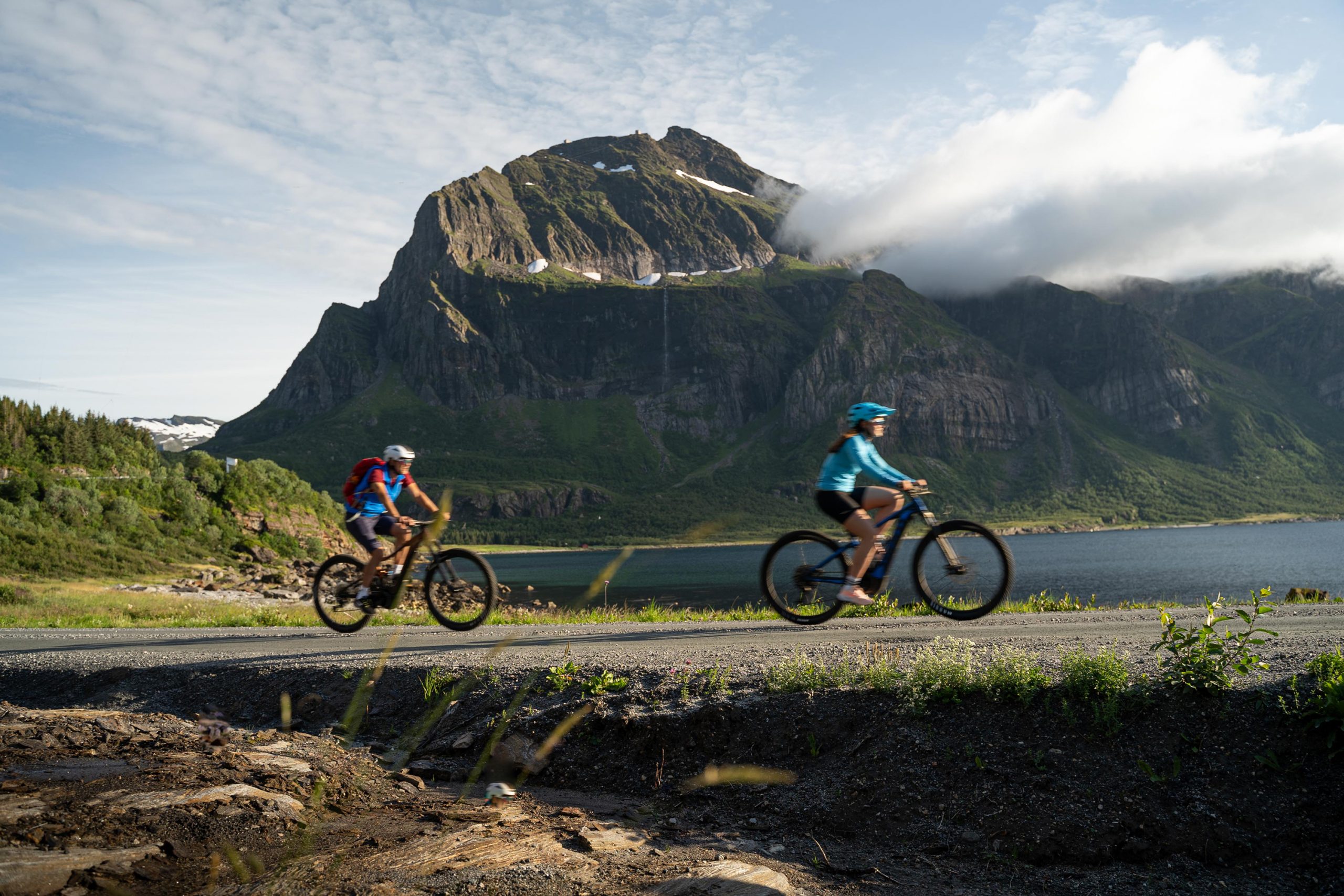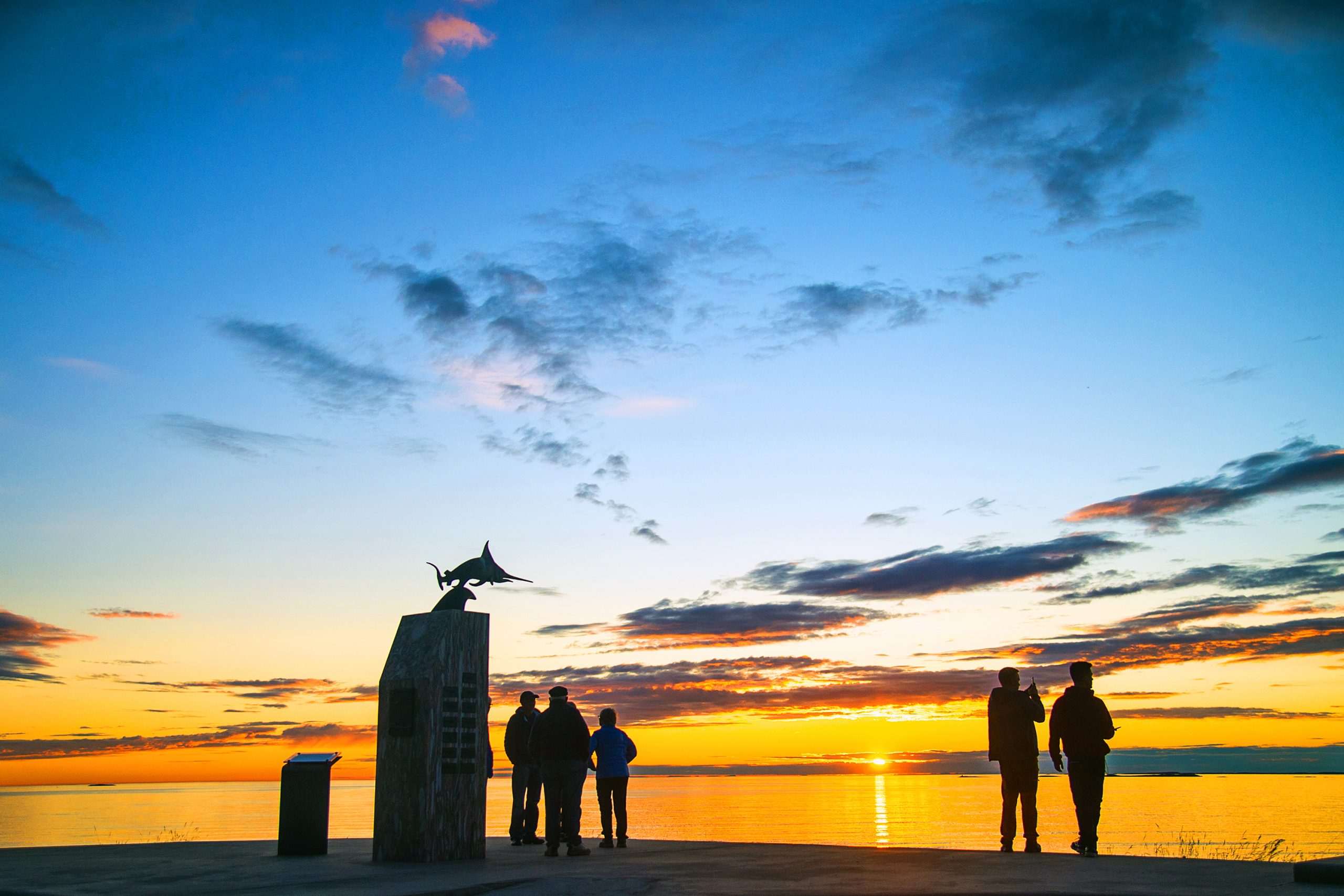 Day 4. Sunday. Scenic Bike Ride and Optional Detours
Prepare for an electrifying day of cycling as we embark on a longer journey covering 48 kilometers. Our day begins with a car transfer through the Svartis tunnel, where cycling is not permitted for safety reasons. From there, the cycling tour follows the picturesque Holandsfjorden, leading us almost to Halsa. Continuing along Fv 452 towards Vassdalsvik, you will board a ferry to Ørnes.
While this route features some hilly terrain, fear not, as the electric bikes will effortlessly carry you through the journey. As you cycle along the beautiful Holand and Bjærang fjords, you will be treated to magnificent views of the majestic Svartisen glacier. Along the way, you will pass by the striking Varde sculpture, a noteworthy highlight within the Nordland Sculpture Landscape.
Throughout the day, various opportunities for detours await. Consider taking a ferry trip to Ågskardet to enjoy lunch at Råkkhuset, an authentic American Diner. Alternatively, extend your cycling adventure by taking a detour towards Grønnøy and Åmnøy, exploring more of the stunning surroundings.
As the day comes to a close, you will check in at Ørnes Hotel, conveniently located near the express boat quay, ferry terminal, and bus center. Adjacent to the hotel, you'll find the historic Ørnes Old Trading Post, adding a touch of local charm to your stay.
For those eager to continue cycling, seize the opportunity to embark on a serene ride north along Fv 17 - Kystriksveien. This flat stretch offers uninterrupted views of the sea throughout the entire journey. Along the border between Meløy and Gildeskål, you'll encounter the remarkable Ureddplassen, a designated rest area and an ideal spot to witness the mesmerizing midnight sun. This round trip spans approximately 26 kilometers.