Cycle tour Kystriksveien from Bodø to Steinkjer
Organized as a single trip from 16 - 27 August. Capacity for 20 people. ONLY 5 spots available.
Join us on a captivating cycling adventure from Bodø to Steinkjer along the scenic Kystriksveien coastal route. This tour is ideal for those of you seeking an active and moderately challenging holiday, while also valuing comfort and safety. Throughout the journey, you can expect exceptional care and support; a knowledgeable guide accompanies the group, cycling at the rear, ensuring everyone's well-being. Additionally, a support vehicle is readily available to transport luggage and provide assistance in case of any unforeseen circumstances. Both guides possess extensive cycling experience, having explored numerous countries. They are well-acquainted with the Kystriksveien route and will go the extra mile to ensure you have an unforgettable trip.
Who is the trip suitable for:
This tour is ideal for individuals who are accustomed to longer bike rides and possess some cycling experience, although you don't need to be in peak physical condition. The daily stages range from 60 to 87 km. Your luggage will be transported for you, and there is an option to use an electric bike if desired.
See prices at the bottom of this page.
Day 1: Wednesday, August 16th - Bodø to Saltstraumen
Distance: 30 km
The journey begins at Bodø Airport, where our tour guides will meet you and provide you with bicycles. Your luggage will be transported to Saltstraumen. Departure from Bodø Airport is at 14:00 (you can arrive from 12:00 onwards).
The cycling route from Bodø to Saltstraumen is relatively short and follows a dedicated cycle and pedestrian path all the way to Tverlandet.
Upon reaching Saltstraumen, we will check in at the Saltstraumen Hotel, where we will enjoy dinner in the evening.
Witness the world's strongest tidal current
Saltstraumen is known for having the world's strongest tidal current, and today we will have the opportunity to witness it up close.
Explore Bodø before the tour begins
We recommend planning your arrival in Bodø as early as possible, allowing you to visit attractions such as the Norwegian Aviation Museum or the Jekt Trade Museum, both of which are located near the airport. If you prefer, you can also consider arriving a day earlier to have more time to explore Bodø.
Day 2: Thursday, 17 August - Saltstraumen to Ørnes
Distance: 79 km
This day's cycling route will take us all the way to Ørnes, passing through Sandhornøy. It's a long stage, and the initial part from Sandnessjøen to Kjøpsvik involves challenging climbs. To make it more manageable, we will be transported by bus to Kjøpsvik, where we will begin the cycling stage.
Beach life on the sandy shores
Our route takes us across the picturesque Sandhornøy. If the weather permits, you may consider taking a detour to Langsanden, a stunning two-kilometer-long sandy beach in the northern part of the island. It's a perfect spot for a refreshing dip if you're up for it.
Before boarding the ferry from Horsdal to Sund, we'll make a stop at the Elias Blix cafe to recharge.
Grave humor: Embracing the afterlife with a twist of self-irony
As we make our way towards Inndyr, we'll visit the medieval Gildeskål Gamle kirke (Gildeskål Old Church). You'll be entertained by the humorous and self-ironic inscriptions (in Norwegian) found on some of the gravestones, showcasing the wit of Northern Norwegians.
Architectural elegance meets scenic serenity
Continuing along the coast, we'll make a stop at Ureddplassen, a rest area known for its remarkable architecture (British press has bestowed upon it the prestigious title of the world's most exquisite al fresco lavatory!). Take a moment to soak in the scenic surroundings before completing the journey to Reipå and Ørnes.
Upon arrival in Ørnes, we'll check in at Ørnes Hotell. Please note that dinner is not included in the package for this day, giving you the freedom to choose when and where you'd like to have your meal.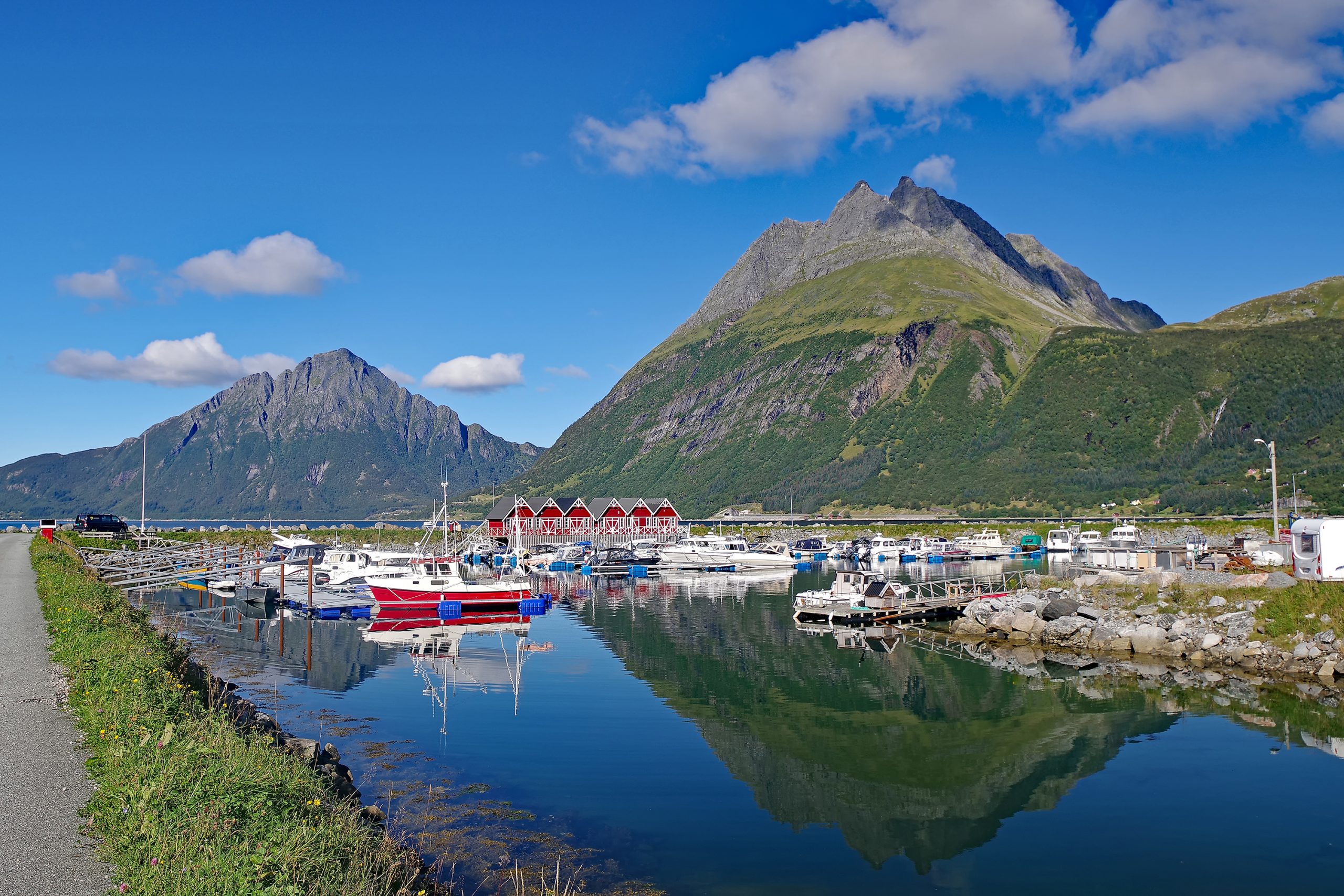 Day 3: Friday, 18 August - Ørnes to Lovund
Distance: 83 km
Our day begins with a scenic ferry ride from Ørnes to Vassdalsvik. As we embark on our cycling journey, we will be treated to stunning views along the Bjærang fjord. Along the way, we'll have the opportunity to admire the sculpture Varde, which is part of the Nordland Sculpture Landscape. After covering approximately 30 km, we'll reach Forøy, where we'll board another ferry to Ågskardet.
Crossing the Arctic Circle
The next leg of our adventure takes us to Jektvik, with the magnificent Blokktinden mountain towering at an impressive 1032 meters in the distance. During the one-hour ferry crossing from Jektvik to Kilboghamn, we'll have the privilege of passing the Arctic Circle. As we continue our southward journey, we'll pedal through the charming village of Stokkvågen, with a delightful stop at Aldersundet, a picturesque strait, and a chance to catch a glimpse of the Grønsvik coastal fort.
Venture to the island of Lovund
Our final ferry ride to Lovund will last a couple of hours, allowing us to savor the experience and soak up the natural beauty from the deck, weather permitting. Upon our arrival at Lovund, we will settle in for a two-night stay at the lovely Lovund Hotel.
Prepare to be captivated by the charm and tranquility of this island paradise.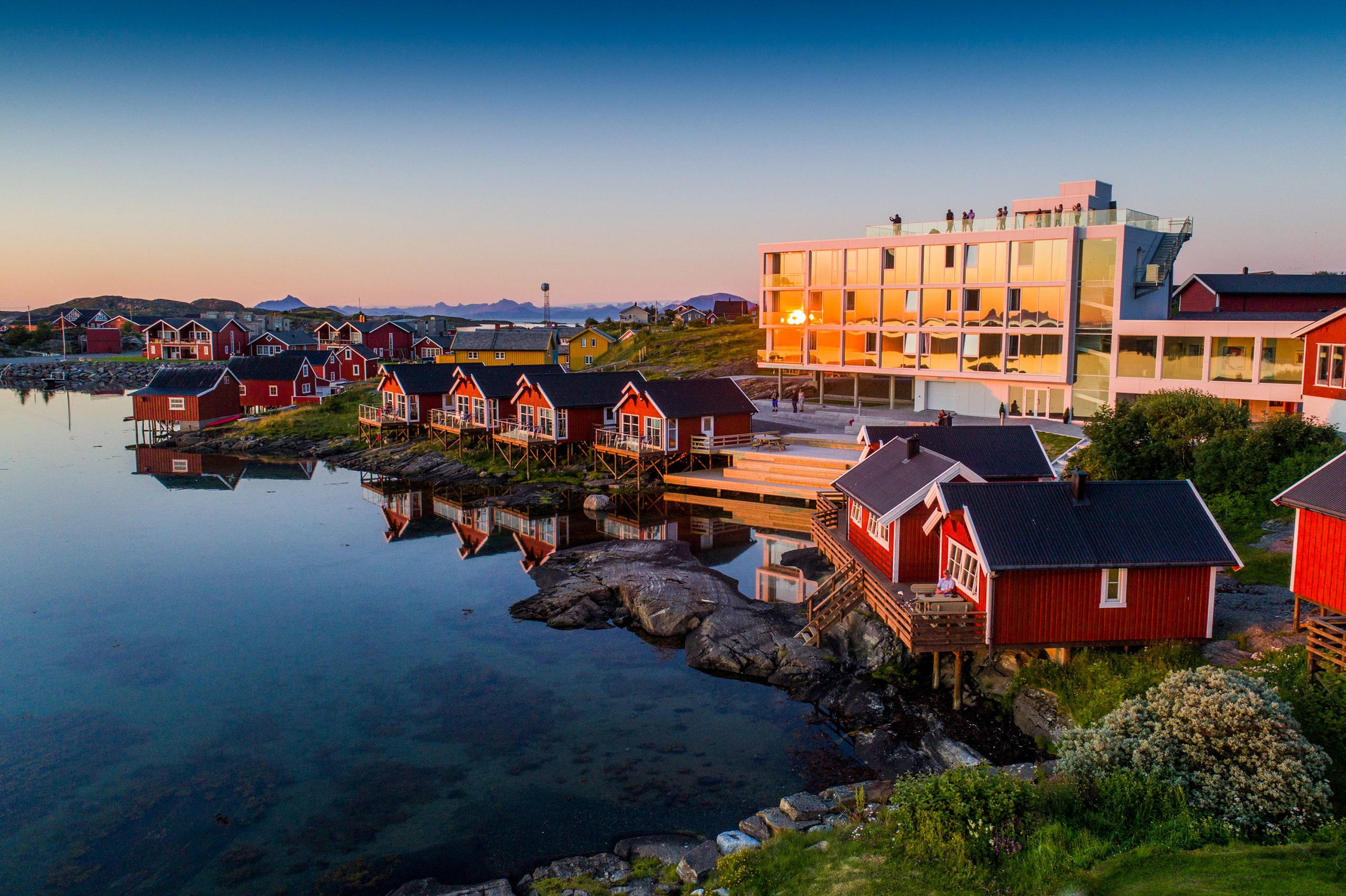 Day 4: Saturday, 19 August - Lovund
Distance:  0 km
Lovund is an extraordinary island with a vibrant sense of community. What sets this island apart is its remarkable lack of unemployment and emigration, while boasting an average population age of only 30 years. The thriving aquaculture industry is primarily responsible for this achievement. Additionally, Lovund is renowned for its vast puffin colony, adding to its allure.
Indulge in serenity and scenic hikes
During our stay on Lovund, there will be ample opportunities to embark on invigorating walks, whether it be a leisurely stroll or a more extensive hike. Alternatively, you can simply unwind and relish in a well-deserved day off, taking in the island's serene ambiance.
Set sail and explore Træna
For those seeking further exploration, a delightful option is to venture into a day trip to the neighboring island of Træna, offering an enchanting experience and a chance to discover even more of the archipelago's wonders.
Day 5: Sunday, 20 August - Lovund to Sandnessjøen
Distance : 66.5 km
Following a hearty breakfast, we set off on a scenic ferry journey from Lovund to Stokkvågen, marking the beginning of our southbound journey along the captivating Kystriksveien. This leg of the cycling adventure spans a total distance of 66.5 km, treating us to breathtaking vistas and showcasing notable landmarks such as the majestic Sjonfjellet mountain.
Upon reaching Nesna, we transition to the next mode of transport by boarding an express boat that will swiftly carry us to Sandnessjøen. For those seeking an additional challenge and wishing to pedal the entire way to Sandnessjøen, an alternative option is available. By taking the ferry from Nesna to Levang, you can cover an additional 30 km of picturesque terrain on your bicycle. The choice is yours to make based on your preferences and energy levels.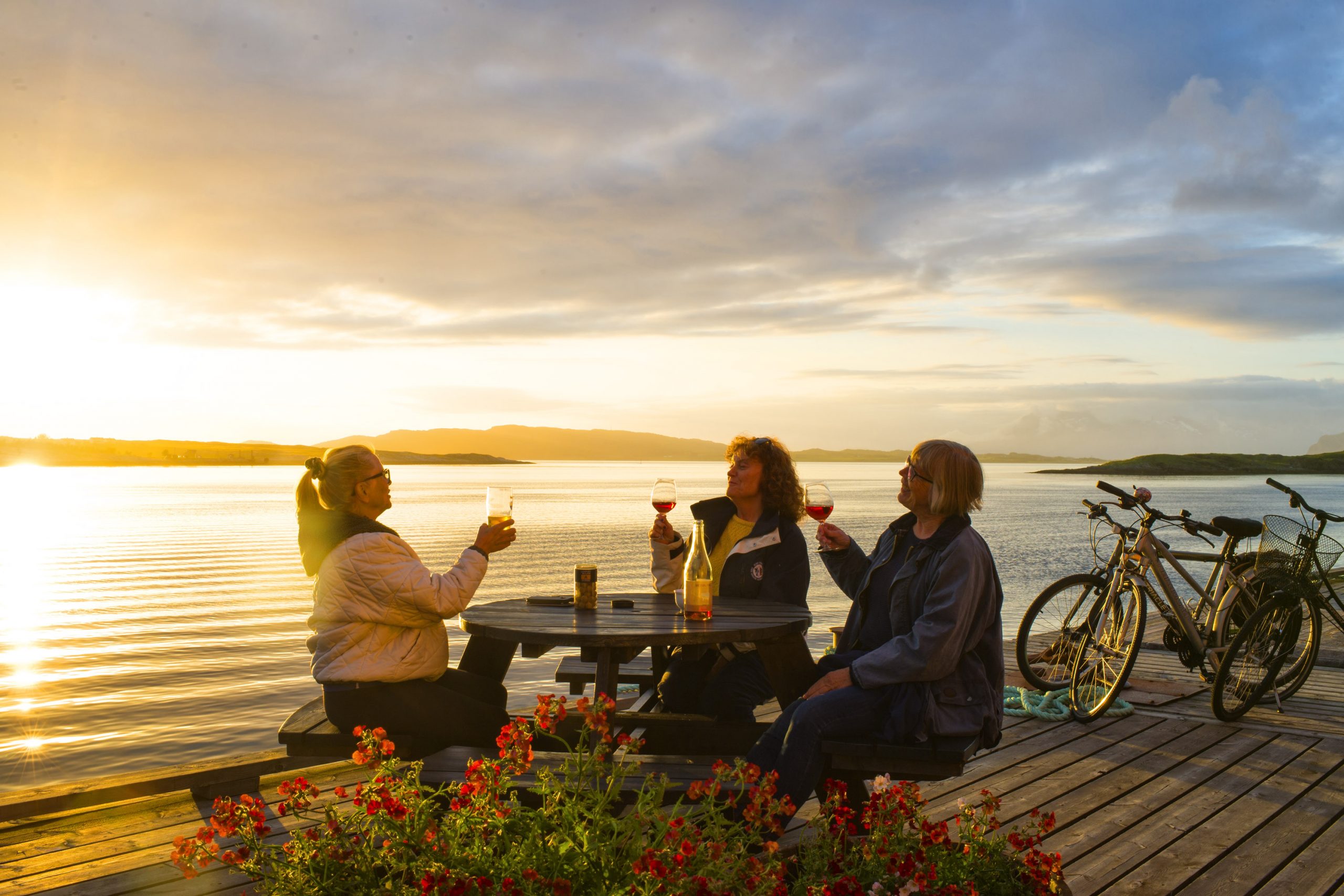 Day 6: Monday, 21 August - Sandnessjøen – Dønna – Herøy – Forvik
Distance: 60 km
We set off to explore the captivating islands of Dønna and Herøy, where we are greeted with stunning vistas of the majestic De Syv Søstre mountain range. Departing from the heart of Sandnessjøen, our ferry ride takes us to Bjørn on Dønna, setting the stage for an unforgettable cycling adventure.
Pedal through idyllic island landscapes
The cycling route to Herøy is renowned as one of the most scenic stages along the Kystriksveien, offering unparalleled natural beauty at every turn. We pause for a delightful lunch in the idyllic setting of Seløy and make a visit to the charming flower shop, Etcetera, further south on Herøy. Our journey continues as we board the ferry back to the mainland.
War memorials, Java jolts, and Boknafisk bliss
En route to Tjøtta, we seize the opportunity to explore the Petter Dass Museum and pay our respects at the International War Cemetery. Arriving at Forvik, we find our accommodation divided between two options, conveniently located just one kilometer apart. In the evening, we gather for a communal meal, savoring the traditional delicacy of Boknafisk. Additionally, we will visit the coffee roastery at Handelsstedet Forvik, adding another layer of enjoyment to our day's adventures.
Day 7: Tuesday, 22 August. Forvik - Vega - Torghatten
Distance: 73 km
After a satisfying breakfast, we embark on a cycling adventure from Forvik to Anddalsvåg, where we board a scenic ferry to Horn. This initial leg of the journey is pleasantly flat and enjoyable.
World heritage and treasured staircases
Upon reaching Horn, we continue our voyage by ferry to the esteemed Vega World Heritage site. Here, we explore the Vega World Heritage Center and ascend the famous Vega stairs for a beautiful view.
In the afternoon, we board an express boat to Brønnøysund and cycle towards the iconic Torghatten landmark. We settle in for the night at Torghatten and indulge in a delightful dinner at Torgarhaugen.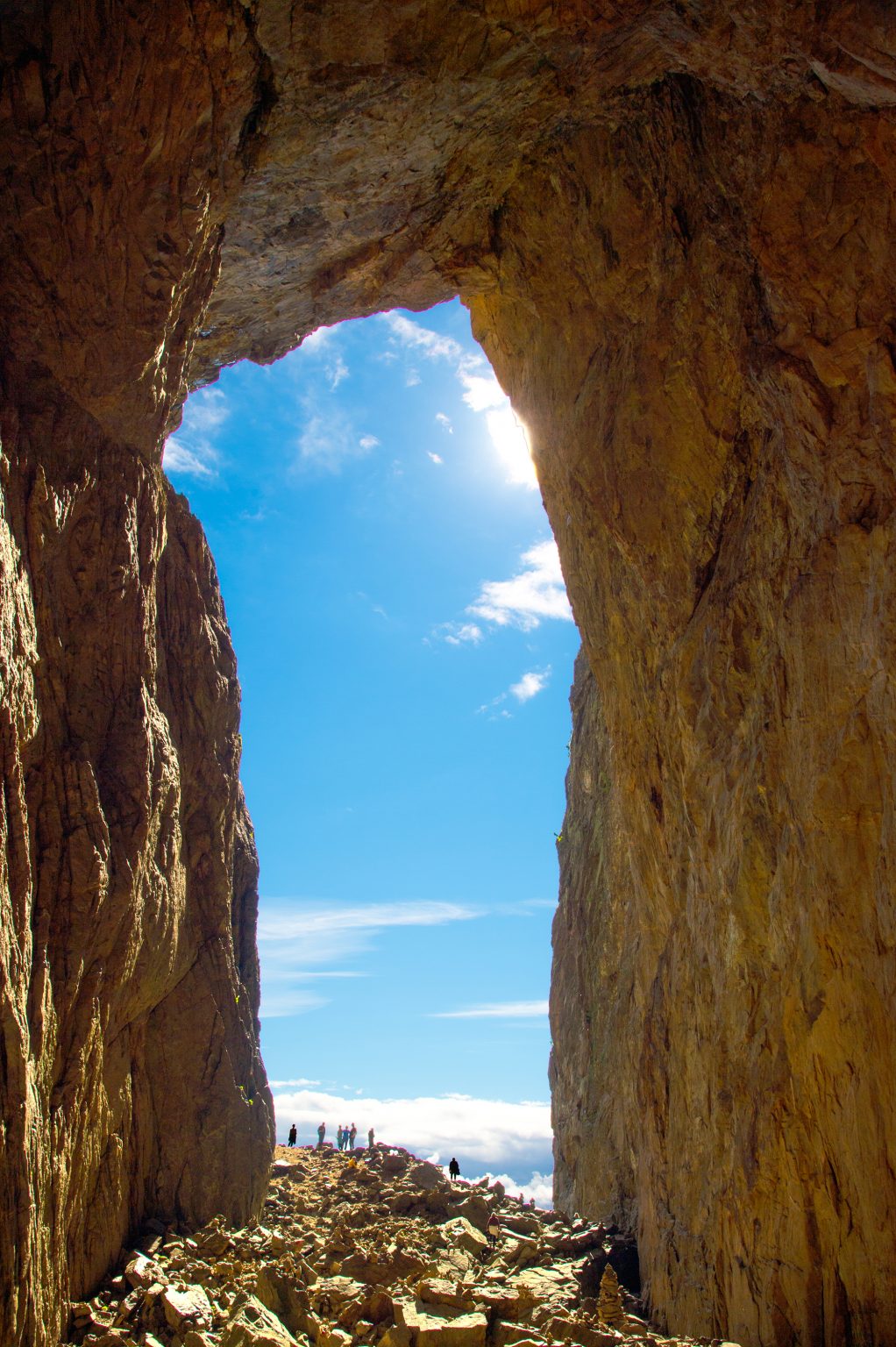 Day 8. Wednesday 23 August. Torghatten – Vik in Sømna
Length: 50 km
Through the hole and into the heart of Brønnøysund
We start the day with a trip up the Torghatten hole. We walk through the hole and around the mountain, before we get on the bike. There are many ferries and boat connections on this trip, but this day is completely ferry- and boat-free. We first cycle to Brønnøysund, where we spend som time on our own. There is time for both lunch and a cafe visit.
Then we cycle further south along Kystriksveien to Sømna. We spend the night at Sømna Kro and Gjestegård in Vik in Sømna.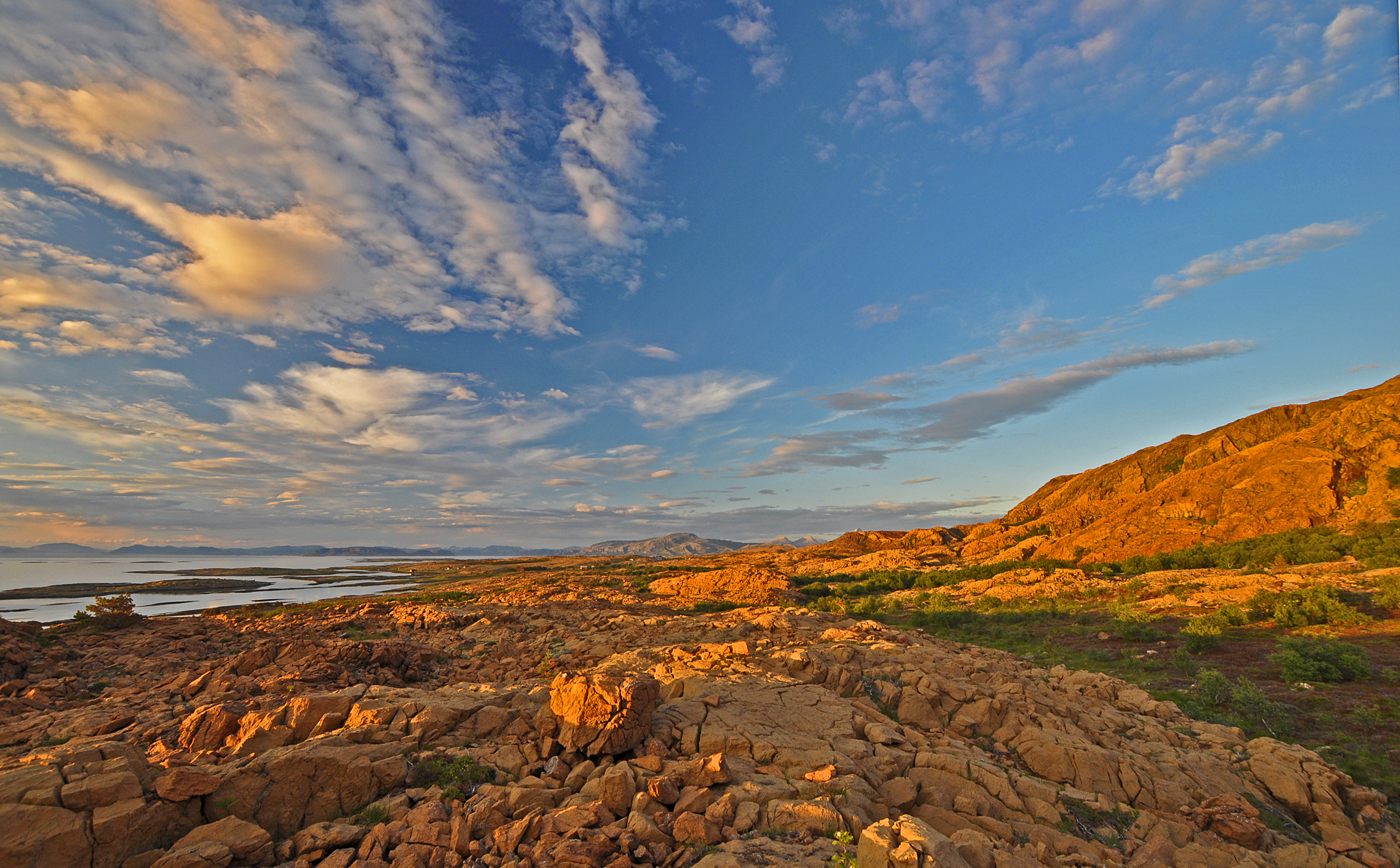 Day 9: Thursday, 24 August - From Vik in Sømna to Leka
Distance: 87 km
We conclude our island-hopping adventure with a visit to the remarkable island of Leka, which stands apart from the rest along the coast due to its unique geology. Before the day is done, we will have traversed through the earth's mesmerizing interior.
Our journey commences along the scenic Kystriksveien until we reach Vennesund. From there, we embark on a ferry crossing to Holm, setting the stage for a mildly undulating route towards Kjelleidet. As we veer off from Fv17, we make our way towards Leka, with the majestic Heilhornet mountain majestically towering 1,070 meters above sea level.
Unearthing the geological wonders of Leka
A ferry ride from Gutvik transports us to the alluring island of Leka. While the initial glimpse may not reveal the island's distinctive features, it is upon reaching its western side that we truly grasp why it holds the esteemed title of Norway's Geological National Monument.
In the evening, we embark on a scenic bike ride around the island, marveling at its striking red and yellow mountains.
Our accommodations for the night are at Leka Brygge, where a delightful dinner awaits us.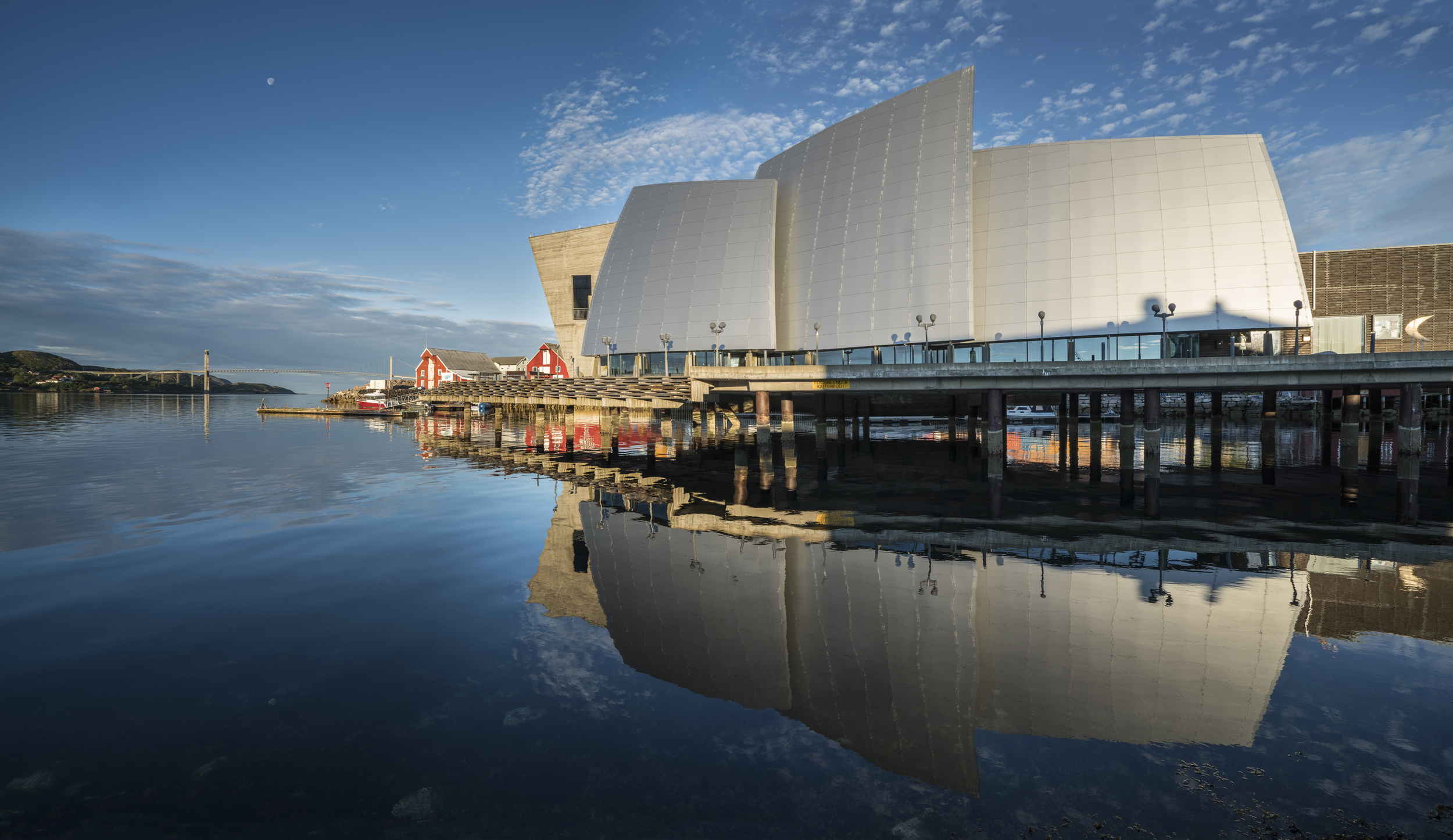 Day 10: Friday, 25 August - From Leka to Rørvik
Distance: 80 km
After our ferry journey back to Gutvik, we resume our cycling adventure. Our route takes us along the tranquil road 751, where traffic is scarce. After a pleasant ride of just over 70 km, we reach the picturesque coastal town of Rørvik.
10,000 years of evolving aquaculture
As we cycle across the Nærøysund bridge, the landscape unfolds before us, revealing a  view of the bustling ship berth below. At the heart of Rørvik, we find the interesting Norveg coastal museum. Its modern architectural design, reminiscent of a sail, beckons us to delve into the rich coastal history spanning over 10,000 years.
For our overnight stay, we have the pleasure of experiencing the comfortable accommodations of Kysthotellet Rørvik.
Day 11: Saturday, 26 August - Rørvik to Namsos
Distance: 82 km
We continue our journey along the scenic Fv769, tracing the coastline as we make our way towards Namsos. En route, we get a refreshing ferry ride from Hofles to Lund. While some sections of the route feature steep inclines, you have the option to shorten the leg by utilizing the convenient speedboat service, allowing you to customize your cycling experience to your preference.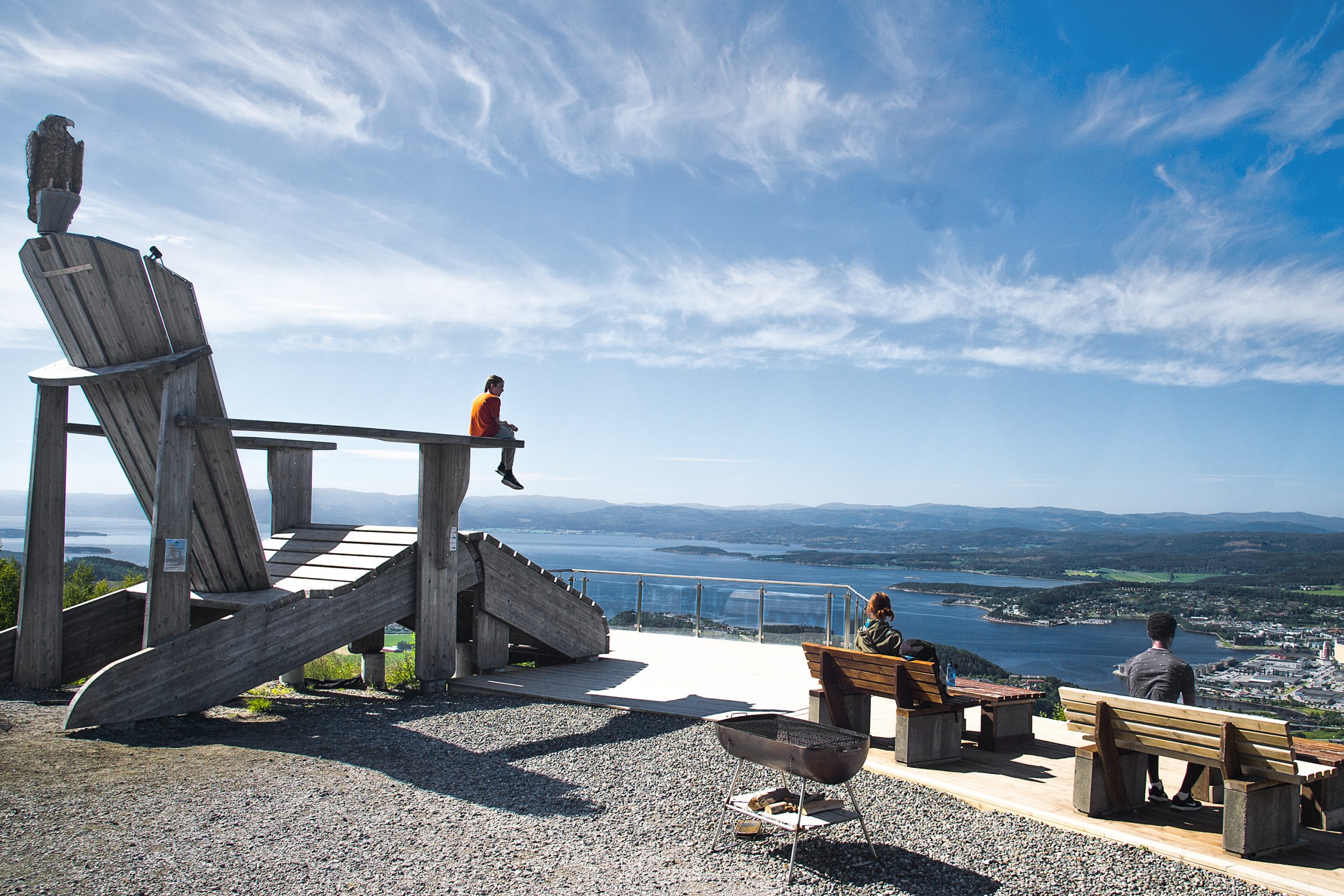 Day 12: Sunday, 27 August - Namsos to Steinkjer
Distance: 82 km
The final stretch of the journey takes us along the scenic Kystriksveien from Namsos to Steinkjer. We meander along charming minor roads. As we progress, we make a stop at the Lensmannsgården café, which is located approximately halfway along the trip.
Upon reaching Steinkjer, you have the option to continue your travels by train to either Trondheim Airport Værnes or the city of Trondheim.
Tour duration:
The tour spans over 12 days and 11 nights, commencing between 12 and 15 at Bodø Airport on Wednesday, August 16. It concludes in the afternoon in Steinkjer on Sunday, August 27.
Traveling to and from: Bodø can be reached by flights from Norwegian, Widerøe, and SAS. Alternatively, you can opt for a train journey to Bodø.
From Steinkjer, there is a train service (approximately once an hour) to Trondheim Airport Værnes.
Who is the trip suitable for:
This tour is ideal for individuals who have prior experience with bike tours and possess some cycling proficiency, although exceptional fitness is not a prerequisite. The daily stages range from 60 to 87 km. We take care of transporting your luggage, and electric bikes are available for those who prefer them.
On the escort car, we have additional bikes, a selection of bike tools, and snacks for your convenience.
What is included:
This trip includes 11 nights of accommodation with breakfast provided. Single room options are available for an additional fee. Additionally, we provide 11 self-prepared lunch packages that can be assembled during breakfast. Dinner is also included for all 11 nights.
Along the way, water and juice will be available, along with simple snacks to keep you refreshed.
Tickets for all ferries and speedboats are included in the trip. You don't need to worry about purchasing separate tickets as they are already covered.
Not included, and available at an additional cost:
Drinks: Beverages other than water and juice are not included in the package and can be purchased separately.
Boat transportation to and from Træna: If you wish to travel to Træna, the boat tickets for the journey from Lovund to Træna or from Leka to Rørvik are not included and must be purchased separately.
Bicycle rental: If you choose to rent a bicycle from us, there will be an additional fee. The rental includes two bags and a helmet. Alternatively, you can bring your own bike, helmet, and bag at no extra cost
Prices
Per person in a double room NOK 27,800
Single room supplement NOK 6,400
Rental of an ordinary hybrid bicycle NOK. 3,600
Electric bike rental NOK 5,800