THE COASTAL TOWN RØRVIK AND VIKNA ARCHIPELAGO
The coastal town of Rørvik is beautifully located along the shipping lane and serves as the administrative centre of Vikna municipality. Here, you can visit the Norveg Coastal Culture Centre and learn more about the culture and history of this coastline throughout 10,000 years.
The vast archipelago starts here and stretches further north along the coast. The authentic fishing village of Sør-Gjæslingan lies off the coast and was early in the last century the largest fishing village south of Lofoten.
A visit to the Norveg Coastal Culture Centre in Rørvik makes for an exciting way to become familiar with the coast and its culture and history. The unique building was built in 2004 and it was designed by the architecture firm of Gudmundur Jonsson.
As you drive over the Nærøysund bridge, the landscape unfolds before you and you are greeted by the coastal town of Rørvik. Further to the West lies an archipelago consisting of thousands of islands. Take a trip by car or bicycle out toward Ytre Vikna and experience the quaint places and coastal landscape.
Do like many locals and go for a walk down on the pier in Rørvik in the evening. That's when both the north- and southbound Coastal Express or "Hurtigruten" make a stop there. You are welcome to go on board if you want to take a closer look at the ships.
Rørvik is a fantastic starting point for island hopping by bike on the Namdal coast whether you come by plane or by the coastal steamer/express boat. From Rørvik you reach spectacular bike destinations like Leka, Abelvær and Skrøyvdalen.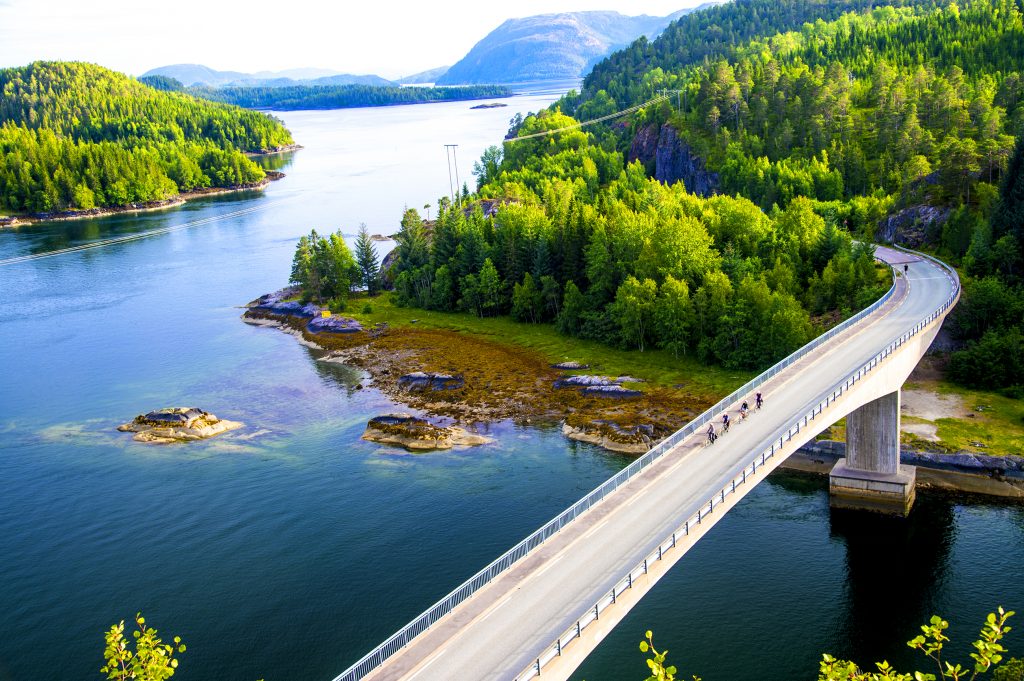 Island hopping by bike in Mid – Norway Experience Norway's most exciting and spectacular island – Leka, beautiful Abelvær, and the protected fishing village of Sør-Gjæslingan. In this suggested tour, which can be done in 4-6 days, you go from highlight to highlight along the Namdal Coast. Details -> Tour description The combination of express … Read more
Accommodation in Nærøysund